Imagine that your boss asks you to move your on-prem analytics architecture to the cloud. Let's say he or she gives you a deadline to finish this by the following week. What would your reaction be?
Would you panic, finding yourself immediately overwhelmed with the shear size of such a project? Or, would you simply click a button, sip on your coffee and let your boss know the task has already been completed?
One-Click Migration
If you use Discovery Hub® from TimeXtender, the second scenario would be your reality, allowing you too quickly move from on-prem to cloud with ease and efficiency. Discovery Hub® is now Microsoft Azure Certified and supports you when migrating your existing on-premises modern data infrastructure - created through TimeXtender's Discovery Hub® software - to the cloud with the click of a button.
Discovery Hub® by TimeXtender is a modern software platform that enables customers to build, deploy and manage an enterprise-grade, analytical architecture, supporting the journey to the cloud in both hybrid and full-cloud scenarios. By being powered by automation and AI, Discovery Hub® enables instant access to any type of data, supporting easy merging of data from a wide variety of sources while using agile data modeling to effortlessly build a modern analytics environment that serves the needs of all business users and meets compliance needs.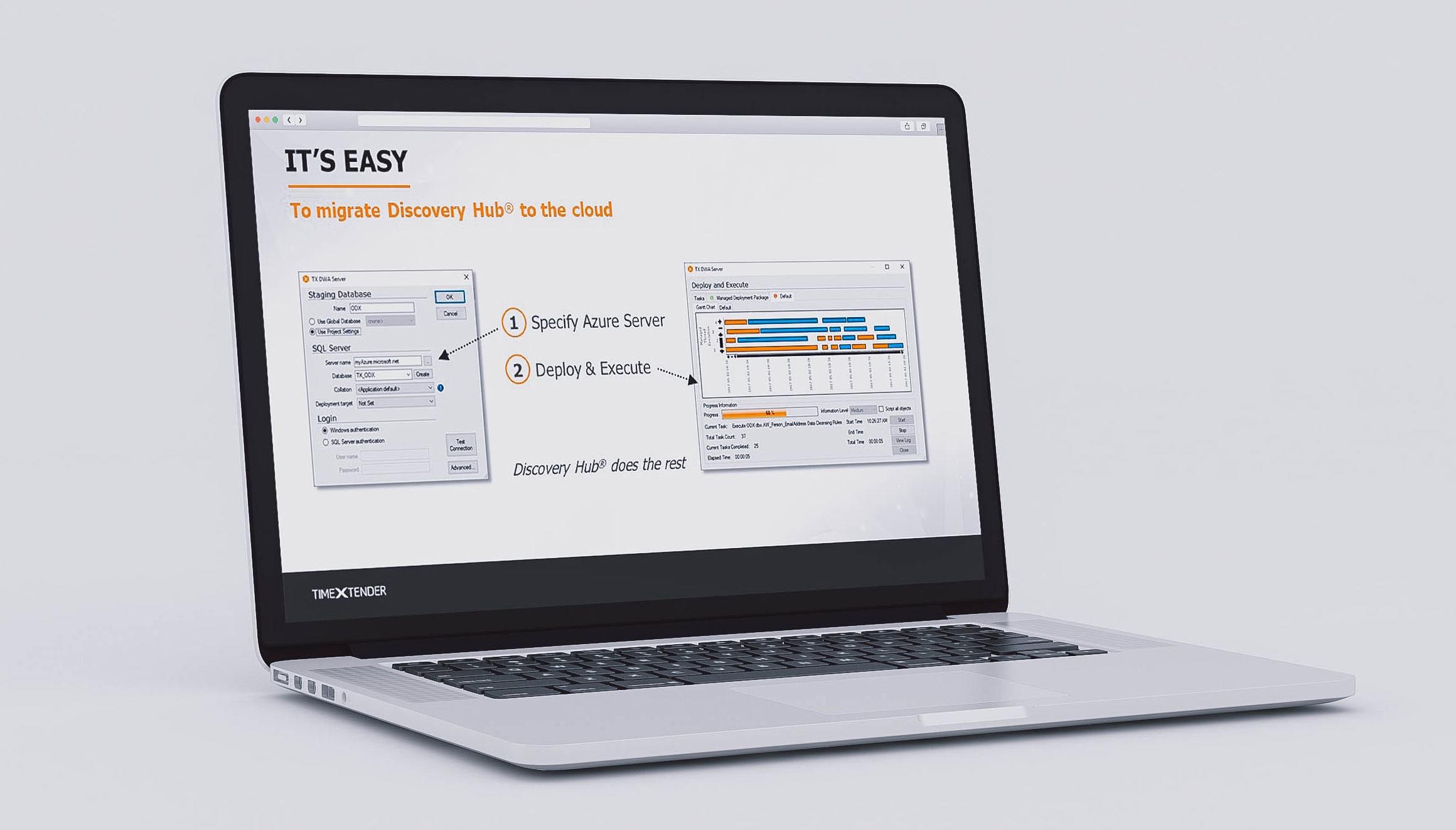 Discovery Hub® is designed with an Azure cloud-first approach supporting: Azure SQL DB, Azure SQL MI, Azure SQL DW, Azure Data Lake and additionally, MS SQL on-prem. There is no need to re-engineer when moving from legacy to new technologies. An analytics architecture and solution built in Discovery Hub® can handle any variation in the underlying technology. This means that moving an entire analytical environment built in Discovery Hub®, utilizing legacy versions of SQL, to the cloud can be accomplished in as little as a day. The chores behind writing documentation, comprehending data lineage and maintaining security are a thing of the past. With Discovery Hub®, it is all automated.
Use Any Analytical Tool with Any Setup
Migrating to the cloud is often a time-consuming task that requires you to work both tactically and technically, as clearly described by Dave Wells from the Eckerson Group in this article. Data warehouse migration is a process that encompasses many steps to migrate all of the individual components. This requires manual migration of schema's, data, ETL processes, metadata, users and applications, just to name a few.
With Discovery Hub® that is not necessary. As previously announced in a press release last June – whether you want to run on-prem, in the cloud or in a hybrid setup – you can easily switch between the different options and save time and resources. By automating all the repetitive manual work that is usually involved, we free up your employees' time and resources, empowering you to better focus your attentions on more critical business matters.
Regardless of your primary need – to build advanced AI and Predictive analytics models, support self-service data discovery or secure enterprise-wide reporting with one version of the truth – Discovery Hub® will ensure that data will be instantly available in the correct format for the business' demands.
Many customers experience as much as 70% reduction in setup time and a 60-80% reduction in maintenance times, regardless if they choose an on-prem, cloud or hybrid solution.


Ready to Take the Journey to the Cloud?
If we have peaked your interest and you would like to learn more about Discovery Hub's one-click cloud migration and other features, you can do so on our product page.