In the first part of this blog series, we dove into two of the principal benefits of utilizing TimeXtender's Discovery Hub®: Cost-Savings and Security/Compliance. Carrying on the theme of focusing on resolutions rather than problems, this follow-up blog will highlight two other key areas where Discovery Hub® users find solutions to their data management woes.
---
Improve Efficiency with a Single, Automated Analytical Platform
Another key benefit of employing a flexible, information-focused data platform like Discovery Hub® is improved efficiency in acquiring and utilizing your company's data. This is reflected, not only in the time saved on manual coding processes, but also the capability to easily handle your important company data and leverage the value of this data quickly.
Discovery Hub® users will see significant time savings and increased efficiency right from the very beginning, even during the implementation of the platform. Built with AI technologies Discovery Hub® gives more speed through automation, resulting in rapid improvements in the installation and setup process. One of our recent customers experienced an impressive six-week implementation time, requiring only one employee to complete the process.
"I am first and foremost impressed with the rapid development process and the subsequent reduction in time to market that we have been able to achieve through using TimeXtender. I have been responsible for many BI-projects in the past, but I have never before experienced these kind of productivity gains using so few resources. The fact that the underlying code being generated is identical regardless of the consultant used, will save us a lot in reduced maintenance costs going forward." - Liv Bøstrand, Business Intelligence Manager, Formuesforvaltning AS.
Read the full Formuesforvaltning Case Study
From A Patchwork of Tools to One Platform
Discovery Hub® provides a cohesive platform across both on-premise technology and Azure services, eliminating the need to manually stitch together tools for ETL, data modeling, code management etc. Additionally, the dynamic Operational Data Exchange (ODX) within our platform allows users to easily flow their company data in AND out of a data lake, without requiring a patchwork of separate tools. This saves companies a lot of time, energy and resources while boosting their IT team's efficiency.
Efficiency isn't only found in the time it takes to reach a result, but also the improvement in ways that businesses can leverage and better work with their important data. Discovery Hub®'s semantic layer modeling capabilities provide easy access to data that is relevant to a specific department or purpose.
One of the challenges business users face in a self-service environment is that they don't always understand system terminology. As a result, they may not interpret the data correctly or understand the reports. The semantic layer modeling capabilities built into Discovery Hub® solves this problem by transforming data in relevant ways using descriptions that are easy for business users to understand. In this way, clear data descriptions = improved data management and productivity.
Efficiency is not only representative of what you can do quickly and correctly; efficiency is how you can get the most out of your projects by maximizing your efforts with the right tools. If you are looking to harness the full power of your important company data, by accessing it quickly, securely and efficiently, Discovery Hub® is the right tool for you.
Trust in a Reliable Data Architecture
Having an agile data platform that can handle all your data requests is increasingly important, but if your data and reports aren't reliable, then your system is worthless. There is nothing more frustrating or detrimental to your business than making key decisions based on unreliable or outdated data.
The fourth key benefit to TimeXtender's Discovery Hub® that we will highlight in this blog, is the reliability of the reports and data managed through the platform. Whether it's imbedded into our architecture – like the semantic layer of Discovery Hub® – or a feature of the platform – such as the data lineage ability – our analytical platform ensures that you receive the most up-to-date data, in one single version. And what's better, as a Microsoft Azure certified platform, Discovery Hub® can help take you on a transformative data journey to the cloud, adding an extra level of security and assurance.
Semantic Layer Improves Reliability:
With the shared semantic layer, governed models are defined once then automatically used to deliver data in the right form and context to Power BI, Tableau or Qlik
Eliminates siloed, unreliable data, creating "one version of the truth"
Regardless of visualization tool, users will arrive at the same figures, avoiding conflicting reports
Data Lineage Secures Reliability:
Finding errors can be a cumbersome process, but with Discovery Hub®, it's as easy as the click of a button. If you find yourself questioning a figure in a report, you can use the data lineage feature in Discovery Hub® to trace that number back to its origin by simply clicking on the data point
Discovery Hub® + Microsoft Azure Provides Reliable Foundation:
Building an Information Data Estate using Discovery Hub® and Azure SQL Database Managed Instance gives you a solid foundation for any use case and data scenario from core analytics to deep learning and beyond
Discovery Hub® users have the choice to select Azure Data Lake and all variants of Microsoft SQL server as storage for their data. And, as Microsoft releases new storage options, Discovery Hub® will support those as well
"In this process, you have to be able to provide reliable, updated figures quickly and easily add them together and split them in different ways. TimeXtender made it easier and faster for us to show the updated company stats demanded by the buyer. The solution presented us as both efficient and credible," - Klaus Vestergaard, CFO, Universal Robots
You Might Also Enjoy: Direct Relief Full Case Study and Video
Making quality business decisions from incorrect or unreliable data isn't just bad for business, it's impossible. Quality decisions come from quality data. Though we describe reliability as a benefit, it really is a necessity in getting the desired results and valuable insights from your vital business data.
Visit Touchstone and TimeXtender at Big Data London
Interested in hearing more about the benefits of Discovery Hub® and Touchstone technologies? If you will be attending, we welcome you to come chat with both TimeXtender and Touchstone at the upcoming Big Data World London conference, taking place on Nov 13-14th at Olympia Exhibition Centre. Visit us at stand #345 to see a live demo of Discovery Hub® in action and speak more with Touchstone about specialized Business Intelligence and Enterprise Management Software projects.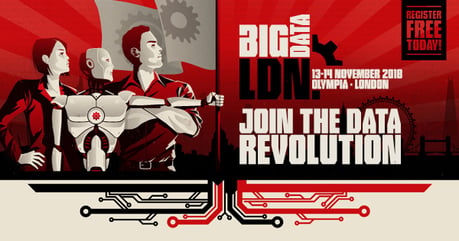 For those of you who won't be attending this year's event, simply grab a cup of your preferred beverage and check out the recent release video to see more detailed information about the future-proof Discovery Hub® platform from the comfort of your own desk.
You might not have made it to London this year but doesn't mean you have to miss out of the incredible business benefits of Discovery Hub® and Touchstone and get some inspiration for modernizing your data estate. Click the button below to begin your data transformation.