The TimeXtender team is back from a great week at Microsoft Ignite in Orlando, Florida. The weather was beautiful, and Microsoft put on a terrific show.
The transcript of Satya Nadella's Ignite 2019 keynote, run through a word cloud generator, produces the image below. We realize there is as much significance to a word cloud as Charly Brown, Lucy and Linus picking shapes out of the clouds in the sky, but "Azure Can Really See Now" somehow works as a theme for the show. Out of the dozens of big announcements Azure Arc and Azure Synapse were the most significant for customers involved in data engineering. These two new products bring more technology and process into the Microsoft universe. With these services Microsoft will be involved in more of what its customers do: "Azure can really see now".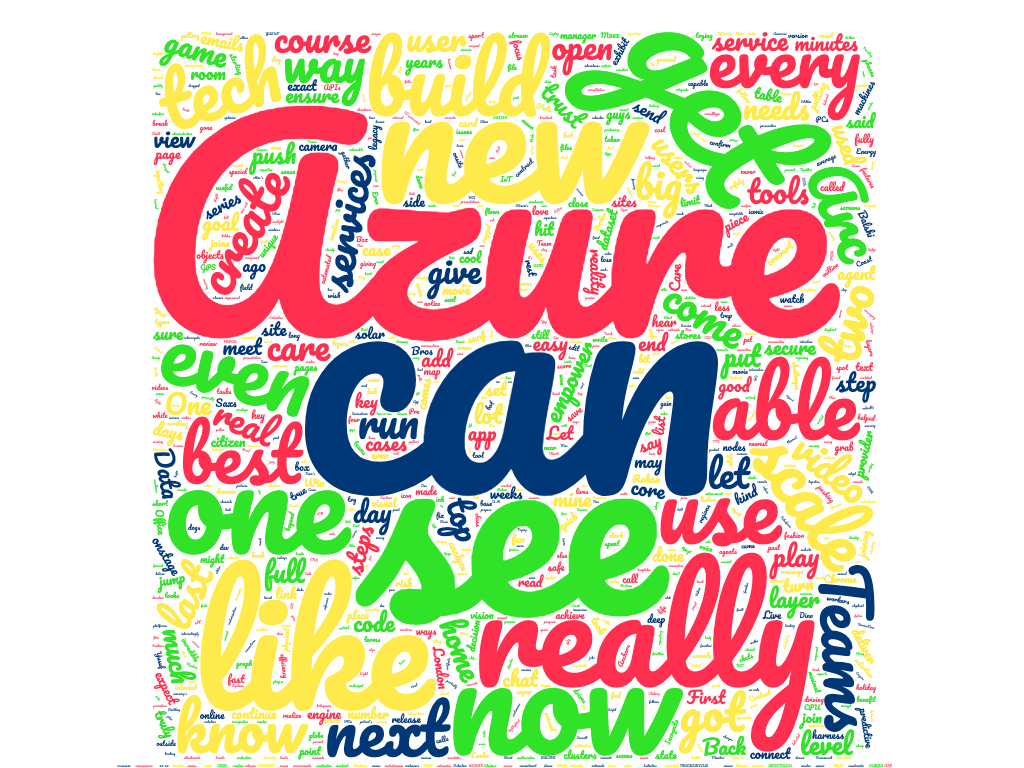 Azure ARC enables deployment of Azure services anywhere and extends Azure management to any infrastructure. With this new capability, Azure can really see now! As it often does, Microsoft has also come up with a new way to talk about it. Everywhere at Ignite, Microsoft was talking about managing this or that through a "single pane of glass". This suggests the user does not have to log into a different system to see or do things. Back in the old days we used to call that "one stop shopping".
Similarly, Azure Synapse brings together enterprise data warehousing and big data analytics and enables users to query data using either serverless, on-demand or provisioned resources. Azure Synapse doesn't bring services from other companies under the Azure umbrella as ARC does, but it does follow the same theme of expanding what Azure can see and do in one place. Bringing together the considerable power of Azure SQL Data Warehouse and Azure Data Factory and managing them through a single pane of glass is a notable step forward.
Azure Synapse Analytics is a limitless analytics service enabling insights across relational and non-relational big-data. At its core is the SQL Pool (Previously Azure SQL Data Warehouse), a massively parallel processing database. This service is Microsoft's direct competitor to Snowflake, Amazon Redshift, and Google BigQuery. To the end-user it behaves much like SQL Server, however, behind the scenes Synapse distributes the storage and processing of data across many different nodes, enabling complex queries across petabytes of data in record time.
There were also newsworthy announcements about Cortana, Edge, VB and others. To those of us in the data and analytics business they were cool - but did not stand out as much.
Back at the TimeXtender booth we had a steady stream of data engineers talking with our solution specialists and participating in live demonstrations of Discovery Hub running on Azure. Many both visitors immediately recognized the power of Discovery Hub's ability to easily integrate new sources - especially companies dealing with mergers and acquisitions. When firms merge, data engineers must figure out how to bring together even more data sources and rapidly evolve their data model. Discovery Hub's ability to easily connect to many data sources, automate the code writing and intelligently orchestrate the entire solution while providing always up-to-date data lineage and documentation helps data engineers accomplish the impossible.
If you were at Ignite 2019 with us, you undoubtedly marveled at Microsoft's ability to choreograph the movement of tens of thousands of people, hundreds of tech sessions, and a very lively expo hall. If you have not had the chance to go, you should consider it for next year. We would love to see you there.
Great Ignite On-Demand Content Here
Great Blog Post about Azure Synapse Here
Great Blog Post about Azure ARC Here