We are incredibly excited to inaugurate our new office and celebrate with friends, partners, customers, and the Bellevue community on Wednesday, April 13th from 4:30pm – 7:00pm. The TimeXtender journey has been a long and fruitful one and we are pleased to truly think of ourselves as a global software company with this inauguration.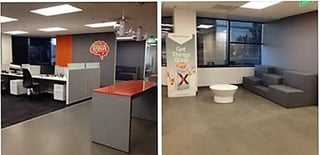 We chose Bellevue for a variety of reasons – superb technology community, communicative and encouraging partner and customer base, and availability of incredibly talented and focused people to help us take our company into a phase of hypergrowth.
It helps too that we are close to some of the world's leading technology companies including Microsoft whose technology we have bet on. What excites us the most is that every day our mission to make real and useful data available to each and every business user is reaffirmed by customers, communities, commentators, and channel partners.

We owe a huge thanks to our 2,600 customers worldwide, our distributors, partners, and resellers, and to the amazing men and women who make up the TimeXtender family.
Thank you – we'll raise a glass to you all on the 13th!
Heine Krog Iversen, Founder and CEO
Anne Krog Iversen, Founder, and Chief DNA Officer
Romi Mahajan, Chief Commercial Officer