I am back from two successful days at Big Data Expo 2019. What an event. The show was very rewarding for TimeXtender.
Big Data Expo is the number-one big data event of the year in the Netherlands, where people and knowledge come together. In 2019, it had more than 5000 visitors, a number which has increased every year since it started. TimeXtender is partner-driven so we attend Big Data Expo with partners to support their meeting with prospective customers.
This is my second time at Big Data Expo, the last time I attended was in 2017. We have been through an amazing upgrade since then and I am sure that all who visited Big Data Expo in 2019 were not in doubt about who had the biggest, most eye-catching booth.
This year we participated with four partners, three sales partners: Axians, Pink Elephant and Provelu and one infrastructure partner: Tech Data. Our three sales partners each represented different verticals, whereas Tech Data supported Axians, Pink Elephant and Provelu when they had conversations with prospects about Microsoft technologies in the cloud. TimeXtender was represented by 20 people in the two expo days and with all the meetings and presentations occurring in the booth, it was always packed with good energy.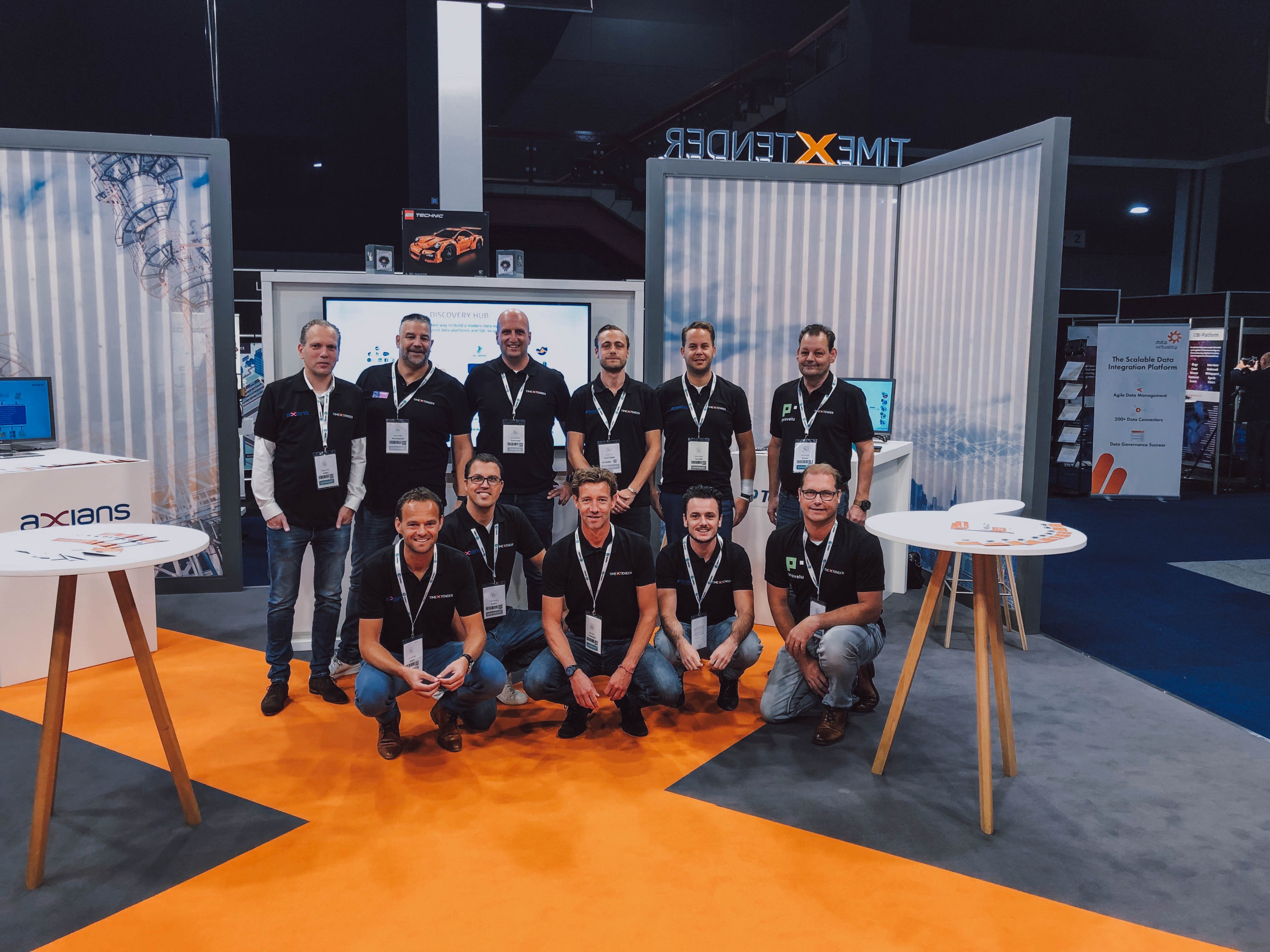 Here are some of the things I was most excited about:
Booth concept and design - Planning and organizing everything from the office is one thing but seeing it all coming alive when the builders start constructing your vision is something else – it's an amazing process and when the outcome is even better than the drawings - it's really satisfying. Our external supplier KopExpo did an amazing job following our vision and I was really proud of our booth and how we represented TimeXtender at Big Data Expo.
Booth presentations – We invited customers Mirjam Bleumink from Moba and Scott Geilings from TopBrands to come and speak at our booth through the silent disco concept. They both did an amazing job with full-house (all the headphones were occupied). In addition, Bardo Schütz from EY also did an incredible job talking about "7 Principles for Analytical Success". In addition to the external speakers, we also had our own solution specialist, Alex van Wijnen doing demos at our booth. Based on the high attendance at the demos, we needed to include some extra sessions with him during the two days. The silent disco concept for presentations is definitely something I would do again as it makes the presentations much more profound and intense (and eliminates many distractions).
Sessions – Alex van Wijnen did a fantastic job presenting a Discovery Hub demo in the Tech conference room. There was full house with more than 50 people listening. It was also great to see so many people at our booth afterward. I am sure there were many other great sessions at the Expo but due to our busy booth, this was the only session I attended.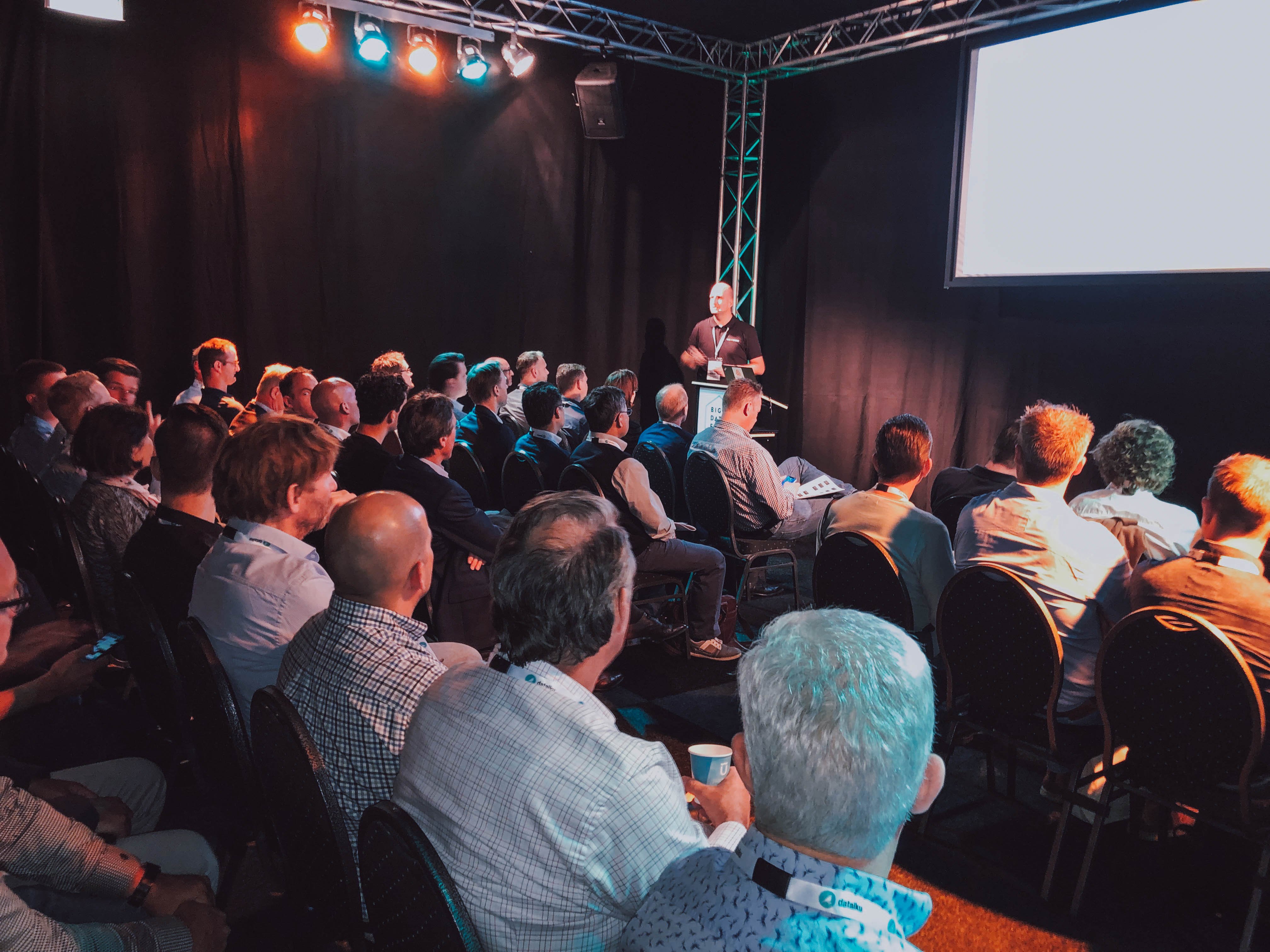 Networking – I was happy to see so many familiar faces, not only at our own booth but during the two days I also met our partners ilionx and MagnaVersum who also were exhibitors – Bitmetric, Fourpoints, E-mergo and other employees of our exhibitor partners also stopped by our booth to have a talk – A great event to catch-up and meet people.
Amazing prizes – I was positively surprised about how many who signed up for our competition where you could win a Lego Porsche car, a pair of headphones, drones and two mini trolls created for charity by our sponsored Porsche Mobil1 Supercup driver's mom. Our booth was packed, both expo days at 15:00 when we announced the winners.
VIP area – We had pre-booked a table in the VIP area in order to have deeper conversations with prospective customers and partners alongside having drinks and snacks. This was a good way to continue conversations away from the busy booth in a quieter place. It was also here some new partnerships were formed.
During the two days, we talked with over 300 people and I must say that when I left the event it was with great joy and a feeling of excitement – Both about this year but also for next year's Big Data Expo, which we already have started to plan.
A big thank you to our dedicated partners and our professional team in Benelux for a great event.