Our innovation team has been hard at work.
Designed like a superiorly engineered, high-performance racing machine, Discovery Hub® is now even faster and more powerful than before, with several new features and capabilities added to our powerful data management platform.
First, our team has redesigned the user interface to include flexible tabs. This makes building a modern data estate even easier and faster. A new solution explorer also provides a more complete view of the overall data estate defined in Discovery Hub.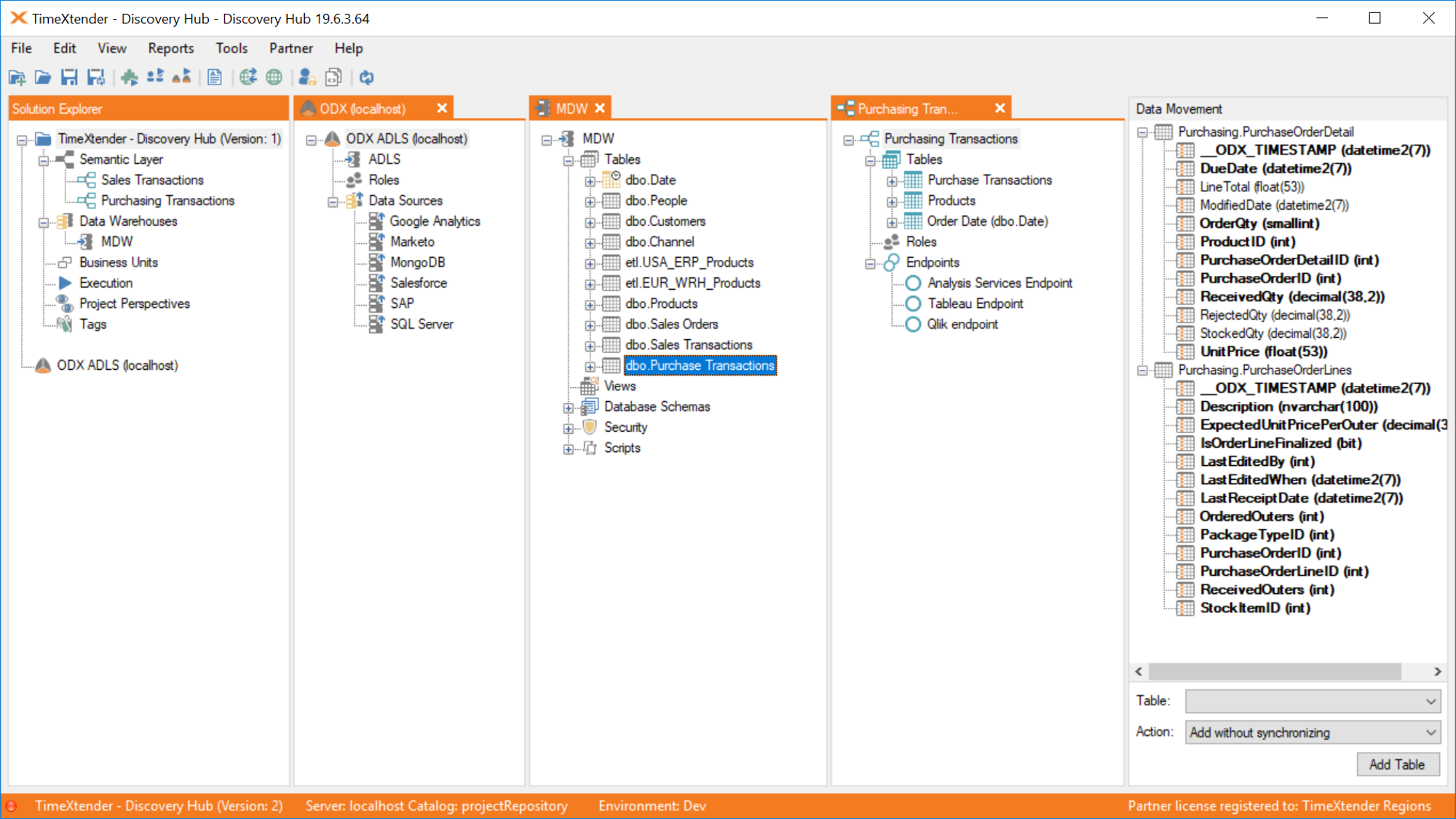 Discovery Hub now supports Azure Data Lake Storage Gen2. And since Azure Data Lake Storage Gen2 now fully supports data storage, Discovery Hub customers will now be able to prepare for big data analytics, while also providing file system semantics, and directory and file level security.
In addition, Discovery Hub now uses Azure Databricks to manage incremental loading to Azure Data Lake Storage Gen2, as well as transferring data from a Discovery Hub Operational Data Exchange (ODX) built on Azure Data Lake Storage Gen 2 to a Modern Data Warehouse (MDW).
Discovery Hub already provided a Azure SQL Database Managed Instance template in the Azure Marketplace, but now we've added support for public endpoints for Azure SQL Database Managed Instance. This means that users will enjoy a smoother connection, allowing them to easily gain access to their data from Azure services like Azure Analysis Services, Power BI, or an on-premises network without the need for a Data Management Gateway.
Further, we have provided this new version of Discovery Hub in the Azure Marketplace as a template that includes Azure SQL Database and support for Hyperscale for Azure SQL Database. Hyperscale provides Discovery Hub customers with a powerful, high-performance and high-scalability service tier allowing extreme storage and compute capabilities. And with the new storage limit of 100 TB of data, Discovery Hub users no longer have to be concerned about outgrowing their storage capacity.
There's more. As part of this update, we're also introducing support for the Azure SQL Database serverless compute option. The auto-scaling capabilities of serverless is a strong fit for Discovery Hub users who perform batch updates of their data estate where the need for computing power occurs in bursts. During the updates, serverless compute is capable of automatically scaling up to 80 vCores and down again when the update is complete. Azure SQL Database serverless is a technology that many Discovery Hub users prefer, as it provides a flexible computing tier that is billed per second and for actual usage.
Our CEO, Heine Krog Iversen, summed it up best:
"We continue to invest heavily in new capabilities for users of our Discovery Hub data management platform. With this latest upgrade, we've made further inroads as a leading solution provider for Microsoft Azure data platforms," said Iversen. "All of these new capabilities are very important for our customer base and for furthering our close alliance with Microsoft as one of their technology partners. This is also significant as more and more businesses are turning to Azure for their enterprise computing needs and to Discovery Hub for building and managing their corporate data estates."

Would you like to find out more? You can visit here, to learn how Discovery Hub is helping companies rapidly deploy and manage their data estates and prepare their data for analytics and AI. And to find out more about Discovery Hub and Azure, check out this previous blog post.