Before I joined TimeXtender, I worked from home for three years. The first year was in an apartment in downtown Bellevue and the last two in a home in Sammamish. So, one environment sounded a lot like being in the office, in terms of car noise and sirens for emergency vehicles. The second environment is very quiet which was quite a contrast.
In both cases, I had a desk with a nice monitor and keyboard that I could plug my work laptop into – so I wasn't working from a small laptop screen. I would sometimes watch my son's dog – which got me out of the apartment/house and ensured I took regular breaks.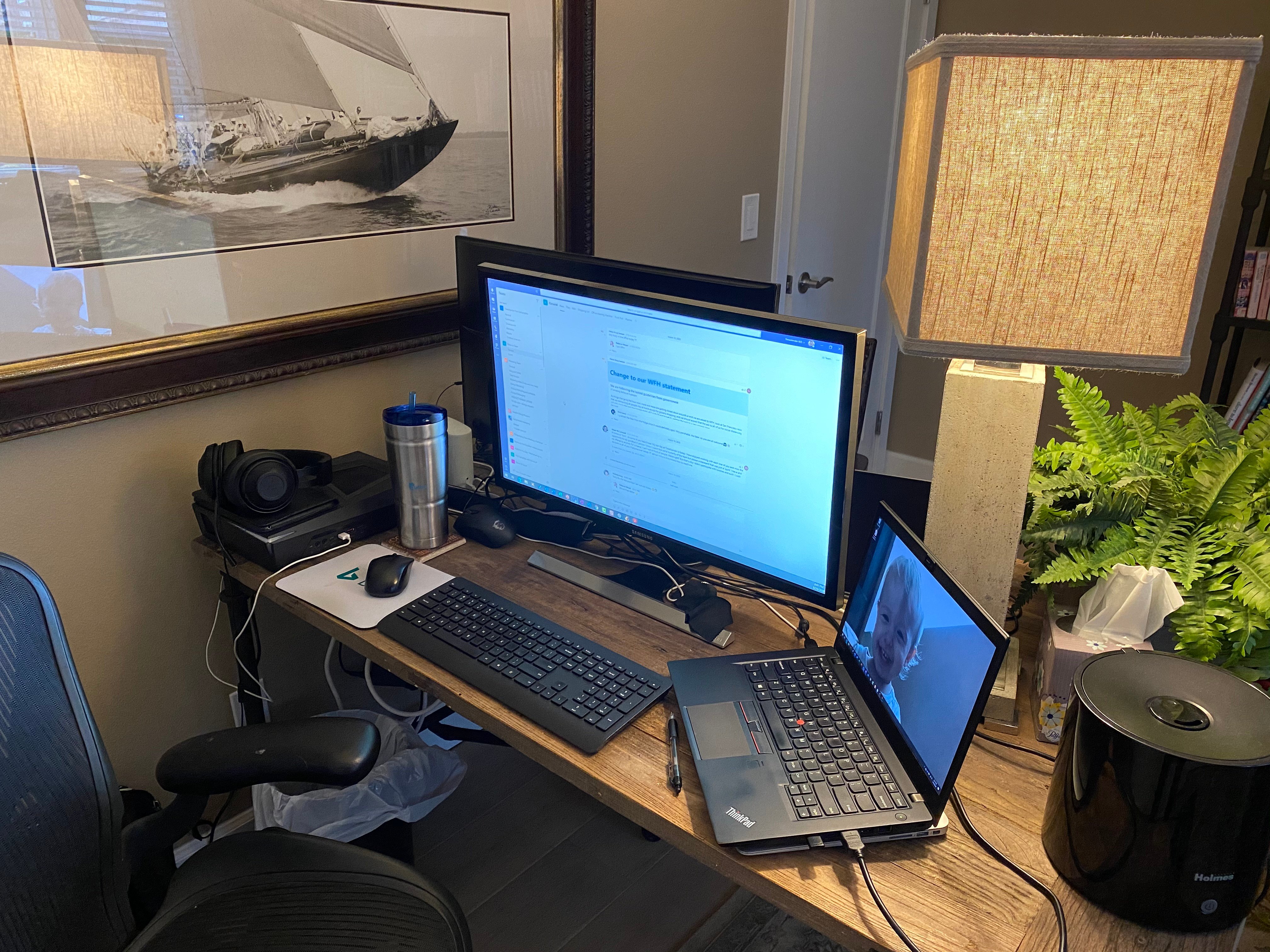 My best practices for working from home:
Get up and get ready like you are going to work. You might wear more casual clothes (we didn't do video calls way back then!), but there is something important about the routine of preparing to "go to work". This time around, my wife and I have been working from home for 3 weeks and the only change to our routine is that the alarm goes off 30 minutes later – because that was the length of our commute.
Have a dedicated space to work. In both locations, I had my personal laptop set up on a dedicated desk and I simply sat my work laptop on top of my closed personal laptop and switched the cables. I don't recommend the dining room table or couch for working – we are used to working at desks in the office!
Use an external monitor (I have a 28" (just over 70 cm) 4K monitor that cost me about $350) and an external keyboard and mouse (like we have in our offices). There are productivity gains in having a larger monitor and using the external mouse.
Get a good chair! We usually have good chairs in the office and often have poor ones at home. I buy refurbished Herman Miller Aeron chairs for my home office – if you are going to sit for hours – you need a good ergonomic chair.
Try to get out your workspace regularly – my favorite was to take a walk. With spring almost here – this is getting easier – and most restrictions on people going places allow for some exercise. I did frequently go out to grab lunch to break up the day. In the summer, I went and sat outside in the sun for 15-20 minutes every afternoon when the sun hit a certain part of my backyard.
Approach working from home in the same way as being at work. This means trying to start at the same time you work if you were commuting and ending about the same time. This was easier for me because I don't have kids at home – and your day may stretch out if you need to give an hour to your kids in the middle of the day (which is OK!).
Keep the same sleep routine as if you were traveling to work. I am really saying – go to bed at the same time you did when you drove to work. I sleep an extra half hour in the morning, because that was the length of my commute, but I avoid stay up later.
Don't add distractions (as much as possible). I am specifically thinking about the television. Unless you have something running all the time on your PC at work, don't put the television on at home. This can create distractions where you are at your desk, but not working. If you like to listen to music at work – still do this.
What's you best practices for working from home during the corona crisis? Feel free to share by commenting below.
Stay tuned for more stories from around the world about working remotely during the COVID-19 pandemic.