Today is an historic day at TimeXtender because today is the day we formally announce our worldwide partnership with Qlik. This news is exciting for many reasons, but what tops the list for me is that together we are now offering the most comprehensive end-to-end solution for Qlik users in the market.
Just this week, Forbes Insights, released results from a global study that they conducted in association with Qlik. The findings reveal that the vast majority 71% of business executives are directing their IT departments and business units to work together to expand access to more forms of corporate and external data. The study concludes that effective data governance and broader data sharing can work hand in hand.
This is exactly what we have been saying for years. Our mission at TimeXtender is to democratize access to corporate data. Combined with Qlik, our Data Warehouse Automation (DWA) solution ends the battle between business and IT.
Please take a moment to review the research for yourself. Check out the news coverage of our exciting announcement. If you're going to Qlik Qonnections, join us on May 2nd at 4:00 for our session on the Modern Data Warehouse in the Age of Self Service. And stop by our booth #899. We'll show you how you can build a Data Warehouse in 8 minutes!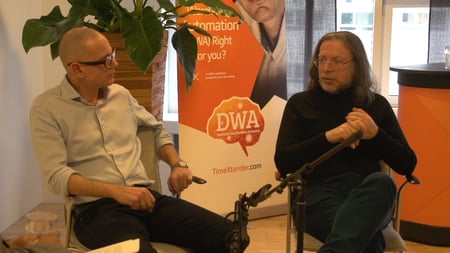 Pictured above are Heine Krog Iversen, CEO, TimeXtender (L) and Donald Farmer, Qlik, Vice President, Innovation and Design, (R) at a recent event. Both executives will participate together in the presentation about the Modern Data Warehouse in the Age of Self Service on Monday, May 2, 4:00 at Qonnections in Orlando.