We're passionate about the value offered by data and automation because time matters.
We want to help you, our partners and customers, to make data-driven decisions that will save you time – lots of time. So much time that you'll be able to spend it with the people you want, doing the things that matter most to you.

In our latest release, TimeXtender has combined our business DNA and core beliefs with our product, reminding you to focus on what matters most.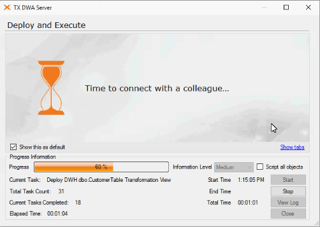 Of course, the new release isn't just about looks. We've also added features and improvements that simplify the process, saving you the user even more time.
So when your boss asks about it, what will he want to know?
A 60% performance improvement when using multiple lookups allows you to find the best value fastHandling data across time is one of the trickiest aspects of all database design but with TX DWA, it's easy.
Besides using slowly changing dimensions of type 0, 1 and 2, we have enhanced the history so that you can now also track how long a record has been absent
But your boss could read that in the accompanying product information.
What would he or she REALLY want to know?
Cloud – Yes – this is more like it. Is the software future-proof when your company is ready to move to the cloud? Since this latest release enables you to deploy all of your databases directly to Microsoft Azure database, this means that whether your strategy is on-premise, hybrid or fully in the cloud, we will be right there supporting you. Migrating to the cloud is easy – you simply input your Azure server and database name, deploy and execute. Our software does the rest, fully automated.
Watch this two-minute video for a quick overview of all key improvements.