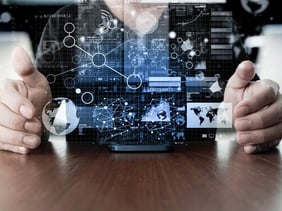 Boxers and organizations have one thing in common. In order to punch above their weight class, they require agility, which is an organization's ability to assimilate and capitalize on change while empowering people. For organizations, agility is the core index of success and the only sure way to avoid the Kodak Moments that can take down Goliaths in a matter of years. Agility is therefore the watchword.
Five C's of Data Visualization
In modern organizations, the very essence of agility is wrapped up deeply in what can be referred to as their "technology culture." Agile organizations simultaneously:
Learn technologies quickly
Build assimilative, accommodative, and additive infrastructures
Infuse technology enablement into the fabric of all departments
Align the technology stack to business needs
Climb the data maturity curve with clarity and constancy
Increasingly, agility and data are interlocked conceptually and practically.
Put simply, there is a lot to know in order to make the right decisions at scale in any organization. Agility is tied to decision making, and data drives (to a degree) that decision making, thereby marrying the two fundamentally. With data sources ever changing and with new sources of data continuing to impinge on and empower decision making, organizations that don't have a powerful infrastructure to manage, ingest, and derive wisdom from data are indeed at risk.
8 Tips for Driving Your Organization into the Age of Data
With this logic in mind, one might conclude that agility is in fact a product of how an organization frames data. The question of agility is connected therefore to five core assertions:
Data is a leading source of value in the modern organization
Corporate data already residing in the organization is underutilized, a diamond in the rough
Business users today are not enabled with timely, comprehensive, and contextual access to this data in order to make smart decisions
Business and IT need to better align in order to succeed both alone and together
Organizations of any appreciable size will need to move towards a secure, agile, and automated data infrastructure
If we can agree to these assertions, then we've framed data in keeping with its importance. And understanding the important role data plays in agile decision making is the first step to organizational longevity.