Inside our free report, learn how the most successful e-commerce companies leverage data to improve decision-making, innovate quickly, and stay ahead of their competition.

While consumer demand for online shopping experiences has grown quickly over the past decade, this trend has accelerated faster than ever in the past 15 months following COVID-19 lockdowns and stay-at-home orders.
In fact, the e-commerce industry is forecasted to double in size from 2020 to 2022, and this trend is expected to continue into the foreseeable future.
The big challenge is this:
How can e-commerce retailers remain competitive, ensure growth, and scale their businesses amid this unprecedented increase in demand?
In our latest report, we reveal that the simple answer lies in the data you're likely already collecting every day.
In the report, you'll discover:
The importance of data for your e-commerce success
Statistics show that data is already playing a massive role in general business processes. For example:
49% of businesses improve their decision-making processes based on data
9% of businesses react faster to changes in the economic environment by using data
9% of businesses use data to improve the financial performance of their organization
How data has impacted the e-commerce industry
In the report, you'll discover how data is being utilized by e-commerce companies to achieve:
A better shopping experience
Better personalization
Predictive analytics
Improved customer service
More secure payment processes
Price optimization
Challenges to accessing and utilizing data you need to be aware of
In order to get actionable insights from your data and achieve key business results, there are a few, big obstacles in the way.
In the report, learn why:
Only 34% of the respondents in a recent Deloitte survey categorized the quality of data in their organization as "good" or "excellent"
31% categorized their data quality as "adequate"
4% considered their data to be of "poor quality"
The right tool for overcoming these data challenges and growing your e-commerce business
As an e-commerce company, you are now able to record, track, and analyze every interaction you have with customers faster and easier than ever before. This data can give you the insights you need to make you processes more efficient and generate more revenue.
If you're able to capture and access it quickly, the data you collect every day is the key to unlocking your future growth and success.
However, for that to come true, you need the right data infrastructure and tools that allow you to gather your data, analyze it, and make better business decisions based on the insights that your data provides.
In the report, you'll learn which tools you need in order to improve your business intelligence, continue to innovate, and stay ahead of your competition in 2021, and beyond.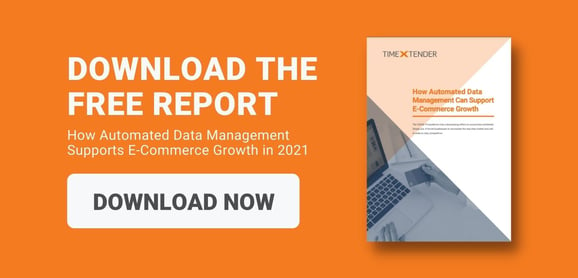 About TimeXtender
Recognized globally as one of the fastest-growing software companies, TimeXtender enables businesses to make quality business decisions faster with instant access to data. A Microsoft Gold Certified Partner, TimeXtender serves its 3,000+ customers, from mid-sized companies to Fortune 500, through its global network of partners.