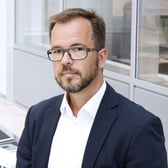 Mikkel Kvist is MT Højgaard's Head of the Group Business Intelligence Competency Centre. The MT Højgaard Group a major construction and civil engineering player in the Nordic countries, employing 4,200 staff and generating an annual revenue of DKK 6.8bn.
The Business Intelligence Competency Centre (BICC) of construction company MT Højgaard was set up to promote rapid, data-driven decision-making processes. I've used two previous blogs to talk about why we favour this automated BI approach and how we pushed through an overhaul of our data management. To wrap things up, here's a little advice on transition…


DO… cut through the red tape
Before we had the Business Intelligence Competency Centre, MT Højgaard's Data Warehouse was a small part of IT Operations. When you wanted something, you had to fill out a task description for your request, then submit it for prioritisation.
This process was hampering the use of the Data Warehouse for reporting and analytics, since the focus on operational efficiency created a barrier for anyone considering making use of business data.
The BICC grew from the acknowledgement that data needed to be moved closer to the business, so it now provides services and insight for the entire group . When people come to us with data requests, we aim to slot them into an agile process with a short time to market.

DON'T… try to walk before you can run
We are in a time of huge change with regards to our IT systems. Right now, the group has four different ERP systems, three of which will eventually be retired. We know this crossover period will involve a huge workload in terms of data and organisational structures, so attempting to switch off the old and transfer to the new is an additional stress that no one wants to contemplate.
With everything in flux right now, the ability to move quickly while still operating will ease everyone through this change phase. We regard TimeXtender as one of the key tools in our toolkit to survive this period. One step at a time…
Read also: 4 signs your BI architecture might need automation


DO… give power to your people
When we started talking with TimeXtender, we weren't thinking about the Discovery Hub concept, just about the possibilities of automation and streamlined data warehouse operations. Afterwards, we realised it would be a good match because one of our primary goals is to democratise data. Making it available for the business, putting it to use for decision making and analysis – these are vital capabilities.
Another goal is to enable self service as much as possible. Currently, that means accessing data and preparing reports without having to ask IT to write code on a request-by-request basis. Since TimeXtender operators have to chip in, it's more like assisted self service but we're getting there.
At some point, we need to move some of the traditional business intelligence activities into the business so they can do it themselves. We anticipate the demand for data analysis getting so large, BICC will no longer be able to handle all the requests!


DON'T… overlook addition returns on investment
Right now, both the business and the entire construction industry are going through a digital transformation and our IT platform is part of that. We're moving away from a 20-year-old ERP system into a packaged software solution, with a lot of that then moving into the cloud at some point.
We wanted to capitalise in a move away from a traditional data warehouse by making additional capabilities available to the group, from building a rolling forecast to budgeting, planning and the automation of reports. In this way, we're making the move part of a wider focus on data and digitisation.
Finding out how to migrate an old data warehouse into a TimeXtender infrastructure has been the focus of our recent work but that's clearly just the start. Exposing TimeXtender to business users so that they can unlock additional benefits won't happen until later but when it does, the power to automate data analysis and be agile in decision-making will be an additional benefit. As we've discovered at every step of this journey, in a digital world, data will always be key.
Read also: Why automation is the missing link in your BI & Analytics